Historyzine's retelling of The War of the Spanish Succession now reaches the year 1708 and the Battle of Oudenarde. The Duke of Burgundy and the Marshall Vendome make initial gains in the Spanish Netherlands moving swiftly to take control of the fortress cities of Ghent and Bruges. Looking to strengthen their supply routes back toward France they move toward Oudenarde.
The allies move fast and manage to surprise the French army just to the North of the city.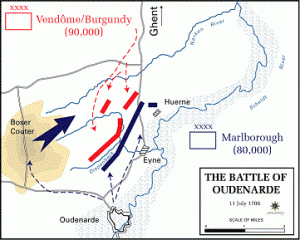 The troops engage but it's all a bit hesitant until Rantzau launches his cavalry, slamming into the unprepared left flank of the French army. More and more troops are fed into the fray and the battle front extends further and further and further with both sides continually threaten to flank the other. The allied troops are moving on to the battlefield from the bridges at Eename but also General Overkirk is advancing through Oudenarde itself with 25,000 troops. He will take these troops around the back of the French battle line and then, hopefully take them by surprise. By 10 o clock at night the French find themselves almost completely encircled.
So, that's the special feature section – The War of the Spanish Succession.
In the magazine portion of the show we look at the word 'ye'.
I interview the military history author, James Falkner
and there is a review of the podcast, A History of Rome.
The music you hear in this podcast is by Gustav Holst and you'll be able to download it from the website http://musopen.com/
If you wish to comment on the podcasts then please visit the website, historyzine.com or visit the contact page and leave me an email using the contact form there.
Also I wish to draw your attention to the twitter feed we've started for the Historyzine History podcast.
You'll find Historyzine twittering away at http://twitter.com/Historyzine .
I hope you enjoy the podcast. Press the play button below to listen or subscribe (it's completely free) using one of the two buttons at the top of this post. One will link you to your Itunes program and the other will give you an rss link for your podcast feed aggregator. Happy listening.
Podcast: Play in new window | Download | Embed