HistoryZine – a place for me to express the joy of discovery as I encounter the many surprises the past holds for me to uncover. My name is Jim Mowatt and you can email me at jim dot mowatt at gmail dot com.

Here's a link with a little more information about me and what I'm getting up to. umor.co.uk and here's my flickr page: Flickr – Jim Mowatt
That umor page is probably a little out of date these days but an interesting little curiousity nevertheless.
I'm also around the net on Twitter and there's a regularly updated group called Historyzine on Facebook.
Historyzine is a history magazine audio programme. The show has developed quite considerably over the past few years attracting listeners, in their thousands, from all over the globe.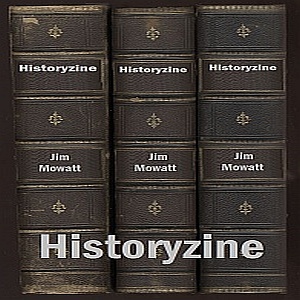 I've been focussing very much upon the early 18th century conflict, The War of the Spanish Succession and will move onto other topics in the future. The first half of the show features a number of more general topics such as our Linguistic History Trivia Bit, History Podcast Reviews, History Book Reviews and Film Reviews. I have also featured a number of interviews with renowned history writers and podcasters. These have proven extremely popular amongst you listeners and so I hope to do many more of them.
I've received many delightful messages over the years from Historyzine listeners and am always happy to receive more. Feel free to contact me on the contact page here at Historyzine